Sniffing Wine: Where Do Those Flavors Come From?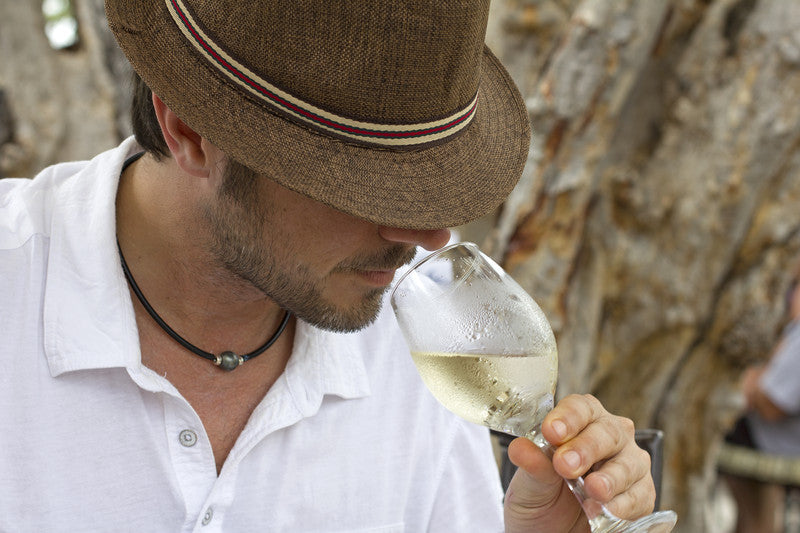 Some of us can isolate the smell of saddle leather and fern fronds from a glass of wine. Others have no idea what we're sniffing. But either way, we all judge a wine's flavor in large part due to our nose. And we usually don't limit our description to "tastes like a grape".
Wine reviewer tasting notes make great entertainment.   They often dig deep for aromas (and flavors, which are technically not the same thing but we're not geeking out here) you'd never expect to see in the same sentence as wine. Cat Pee. Cotton Candy. Jalapeño. Meat. Some you might not recognize until they are pointed out for you, at which point it is SO OBVIOUS: Pineapple. Violets. Lemon. Cola. Mushrooms.
Although smell and taste are subjective, wine geeks who spend their lives with nose pressed into a glass have a shared vocabulary of aromas. This is because there are recognized characteristics that show up over and over again in a given type of wine. Some have created aroma wheels highlighting families of flavors that many people use to help train their palate. This aroma wheel is probably the most famous.
But where do the flavors come from? There are obviously no rose petals, lemon peel or truffles in a wine.   The real answer is a complex science class, but here's the short list of ways flavors get into wine:
The Grapes, and the Environment they are grown in (called primary aromas, since they come right from the source). Compounds in the grape create flavors of fruit, flowers, spices, herbs, and others - because they are similar to the compounds found in those items. Certain aromas are commonly associated with specific grapes. Like cherry in Pinot Noir. Or green pepper in Sauvignon Blanc. The environment the grapes are grown in can also impact the flavor – like the soil, or a salty ocean breeze.
The Winemaking (called secondary aromas). The winemaker can make decisions that affect flavor. This happens mostly in fermentation, the process in which yeast converts grape juice (and the sugar in it) into alcohol. You might sense it in aromas like butter, cream.   You might find oak flavors because the winemaking happens in oak barrels – or maybe the winemaker threw some oak chips into the wine.
Age (called tertiary aromas). As wine ages, chemical reactions cause new flavors to develop - often called a bouquet. Aging in oak might give flavors like vanilla, nuts, and smoke. A long time in bottle might give a wine earthy characteristics. Some wines (i.e. sparkling wines) are left to age with the residual yeast and related particles, adding a yeasty flavor to the final product. The cool thing about tertiary aromas is that they dance to their own music, and can surprise you when you open that old bottle.  
Wine Faults. These are more odors than aromas, generally unexpected results of something that happened in the winemaking process. And they're usually unpleasant. They come from things like tainted corks (musty, wet cardboard), too much oxygen getting into the wine (rotten apple), or too little (cabbage), volatile acids (vinegar), too much sulfur (burnt match).  Luckily, winemaking quality has improved to the point where fewer than 5% of wines on the market are faulty.
Most people do not recognize aromas in wine from the start – unless you're a supertaster, with a million extra taste buds on your tongue. Even the experts spend years training their palate.  But once you identify a flavor in wine, you're likely to recognize it again.  And now you'll know how it got there.
36 Responses
Leave a comment