6 Wine Descriptors That Will Make You Sound Savvy. Or Just Make You Laugh.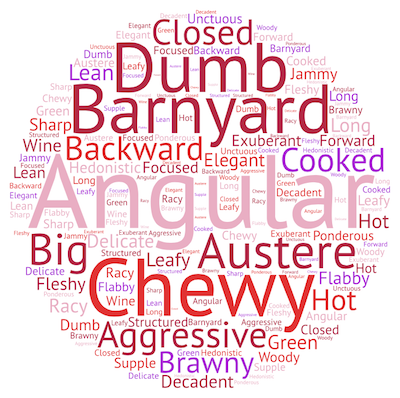 The wine world is full of eye rolling descriptors. These are terms used to describe a wine that give a clear picture of what's going on in the glass. For wine geeks, they are used as commonly understood shorthand.  For the rest of us, it can be comical.
You'll hear these terms thrown around liberally and authoritatively in 'serious' wine gatherings. In the general public: not so much. Mostly because casual drinkers don't feel the need to dissect the wines as they drink.   And, frankly, because they sound strange.
Here are a few stellar examples.
AUSTERE: Stern, closed off. Not much fun to drink.
BRAWNY: Full-bodied with lots of weight and flavor. Muscular, but not refined. Grrr!
FEMININE: Light, bright, delicate. Uh, like a girl?
FLABBY: Full-bodied, and rich, with no acidity. A bad thing.
GRIPPY: With strong tannins that, err, grip the sides of your mouth.
UNCTUOUS: Rich. Lush. Intense. And…oily.
Sounds crazy, perhaps. But it's real. Put a light Oregon Pinot Noir next to a dense California Cabernet Sauvignon. Take a guess as to which one would be feminine, and which would be brawny.
 The funny thing is this: once you hear these terms applied to a wine you're drinking, they have a way of sticking with you.   Part of the magic of wine is its ability to echo the real world – where the grapes are grown, the saga of winemaking, where and with whom we drink it.  If you care to look closely enough, a descriptor can put a picture in your head that matches what's in your glass.  And you can't un-see it.
Good for a laugh. Or good for future use. They'll both work.
19 Responses